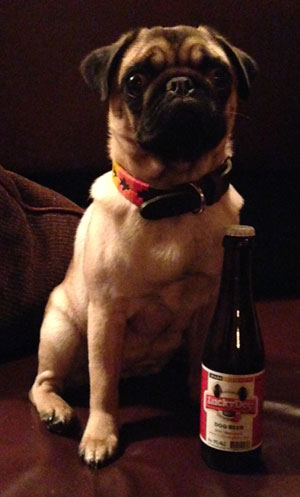 It's a great dog's life!!
It's unbelievable but true doggie beer (non-alcoholic of course) is on the shelf here at the Three Greyhounds Inn. Pet dogs are welcome in our 'Brandy Snug' named after our famous collection of some 50 brandies of all different styles!! There are the usual Dog biscuits on the bar (supplied by our local Dogs kennel 'WAGS') as you would expect but now for only £1.50 your 'pooch' can have a little beverage with you!! Doggie beer is made up of meat stock and is certainly lapped up. Sometimes the bottle is nearly as big as the dog as you can see!!
Shakerley Mere the picturesque lake is opposite the Three Greyhounds Inn and is well worth a walk with your the dog before you arrive at our pub. Walk leaflets for this are available here on our website or from within the pub itself.
We also have a large garden at the side of our pub which is ideal in the spring and summer months for your respective hounds..just venture through the Brandy Snug and through the French windows and you are there!