Our new Summer menu is here!!!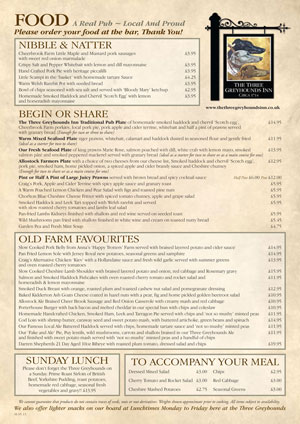 As the summer approaches (hopefully) our head chef Craig and landlord James have been busy putting the finishing touches to our summer menu here at the Three Greyhounds Inn. So what are the new dishes to look forward to….?
In our 'sharing section' of the menu we have introduced our Warm Mixed Seafood Plate of tiger prawns, whitebait, calamari and haddock dusted in seasoned flour and gently fried (ideal as a starter for two to share) so popular at the Bulls Head customers want to see it here too!!
In our starter section we now have Craig's Pork, Apple and Cider Terrine with spicy apple sauce and granary toast this also now features on our famous 'Pub Plate'. There is a Warm Poached Lemon Chicken and Pear Salad with figs and toasted pine nuts and a Chorlton Blue Cheshire Cheese Fritter with spiced tomato chutney, apple and grape salad or you may be a soup lover so we have prepared a Garden Pea and Fresh Mint Soup and finally by popular demand Pan-fried Lambs Kidneys finished with shallots and red wine served on seeded toast.

On to the Favourite main courses Craig has introduced Slow Cooked Pork Belly from Anna's 'Happy Trotters' Farm served with braised layered potato and cider sauce and for seafood fans a Pan Fried Lemon Sole with Jersey Royal new potatoes, seasonal greens and samphire. The ever popular Salmon and Smoked Haddock Fishcakes are now with oven roasted cherry tomato and rocket salad and horseradish & lemon mayonnaise.
For a twist we also have Craig's Alternative Chicken 'Kiev' with a Hollandaise sauce and fresh wild garlic served with summer greens and oven roasted cherry tomatoes. Another slow cooked dish is the Slow Cooked Cheshire Lamb Shoulder with braised layered potato and onion, red cabbage and Rosemary gravy.
There is a lovely light salad of Smoked Duck Breast with orange, roasted plum and toasted cashew nuts with a pomegranate dressing and finally another summer delight with Baked Kidderton Ash Goats Cheese coated in hazel nuts with a pear, fig and home pickled golden beetroot salad.
Finally Craig's home made puddings there is a Baked Rhubarb and Ginger Crumble Cheese Cake with fresh cream or Allostock Fresh Gooseberry Tart with clotted cream and for the chocolate fiend a Chocolate and Hazelnut Brownie with raspberry ripple ice cream.

A twist on a Peach Melba brings you 'Seven Sisters Farm' Raspberry Pavlova Ice Cream served in a brandy snap basket with peach compote and finally the popular summer mess that is the Allostock Mess of fresh whipped Chantilly cream, Meringue with strawberries and raspberries.
Enjoy all these lovely summer dishes in our Cheshire Farm Garden to be found through our Brandy Snug or in a cosy corner within the Three Greyhounds Inn itself. Here's to the sunshine!!