Welcome to the Three Greyhounds Inn, here in Allostock.
We opened the doors to the 'new' Three Greyhounds Inn on Thursday October 11th 2012, after significant restoration works. The pub had sadly closed down and was on its way to extinction before it was rescued by Tim Bird and Mary McLaughlin, who also own the Cholmondeley Arms on Lord Cholmondeley's estate, the Bulls Head, Roebuck Inn and Church Inn (all in Mobberley) and finally the Fitzherbert Arms on Lord Stafford's Estate in Swynnerton.
Anyone familiar with our pubs will know we firmly believe in creating warm, relaxing and friendly pubs, with freshly cooked and locally sourced food, fine ales from local microbreweries, unique spirits as well as twelve or so lovely wines by the glass.
The Three Greyhounds Inn is no different and we are very proud indeed of the work we have done to salvage this 300-year-old Country Pub. Prior to being a pub the buildings were part of a working farm. This is reflected in the menu with fantastic Cheshire farm potatoes, meat, cheeses, eggs and ice creams to name but a few. On the bar craft cider brandy makers are celebrated as well as local micro-brewery ales.
We look forward to welcoming you to our beautiful pub, whether you are out for a drive or on your way home from a hard day at work or whether you are cyclists, walkers or horse riders. Come and enjoy the Cheshire countryside, we have a lovely large garden, with lots of tables to dine from plus our famous old farm tractor for children to play on. We also have nearby Shakerley Mere, with its lake and wildlife. A great place to walk the dog……Greyhounds feature in our name and pet dogs are very welcome here at the pub.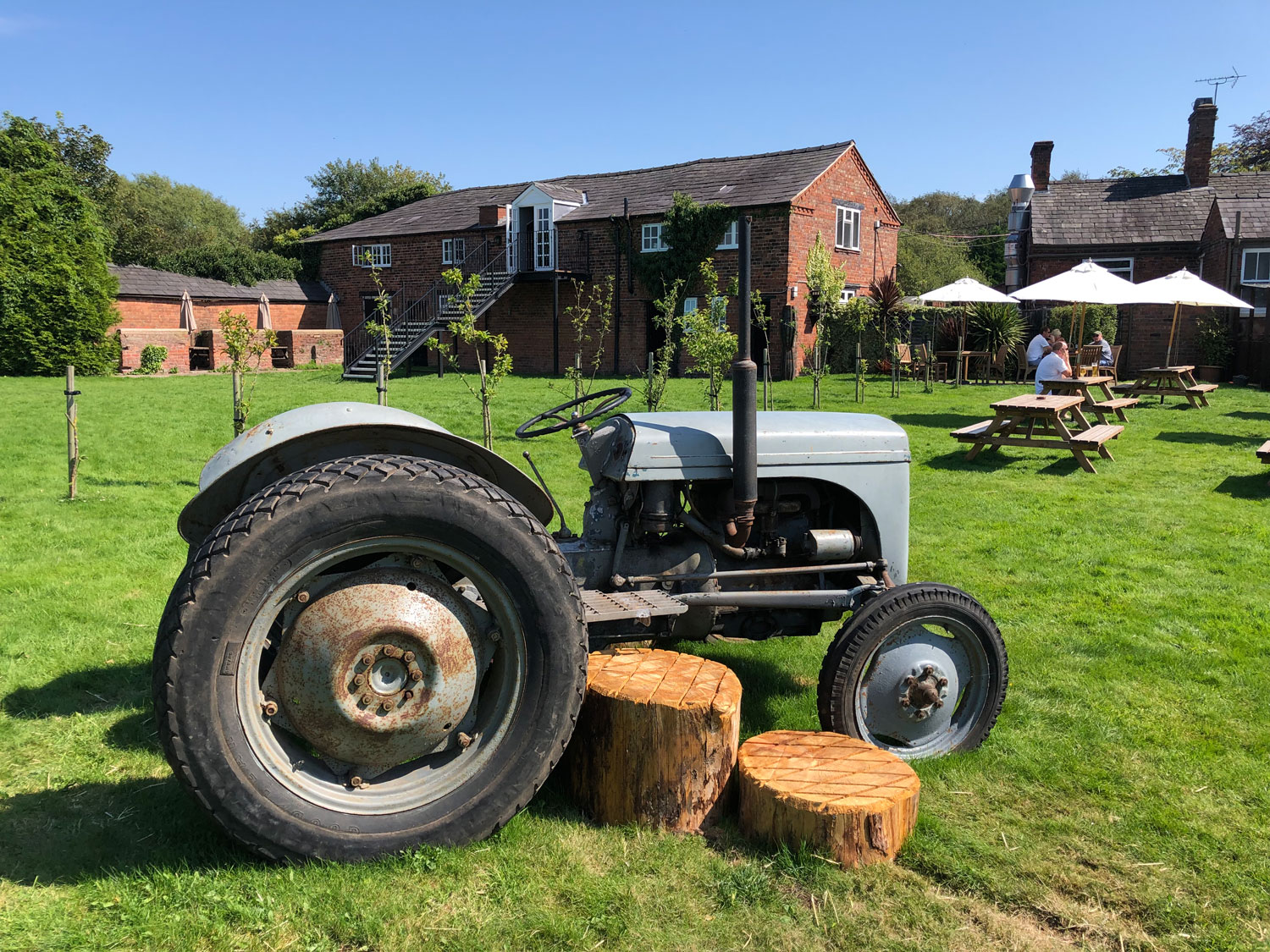 We also have a lovely private dining/party room with its own bar called the 'Old Dog House' that can seat 60 comfortably within a country barn environment for that relaxed party with food and drink.
Come along and enjoy the pub. We look forward to seeing you for many a year to come!!