Yew Tree sadly has to be taken down.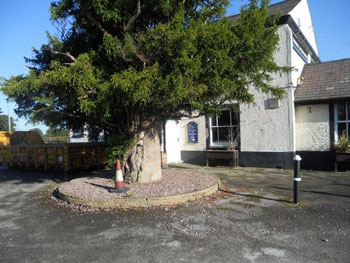 We are sorry to announce that the old Yew Tree at the front of the pub has had to be taken down. The roots of the tree are upsetting the foundations of the pub and in order for us to carry out the major restoration works needed to rescue this pub we have been given absolutely no choice.
The plan was to create a green in front of the pub with the tree as a center piece but sadly this was not possible. We will still be creating the little green and a new Yew Tree will be planted in the garden where the sun shines all day. The tree had also become an eyesore with huge amounts of cement around the trunk to stop growth and frankly was used as a rather large ashtray too!!!
As the work commenced on the tree parts of it were found to be dead behind the cement.
Sometimes changes have to be made for the better and the benefits are that the building won't fall down and we have a lovely view of the famous 'Three Greyhounds Inn', a pub which had closed down. We are in the pub restoration business and the Three Greyhounds Inn will be restored beyond its former glory….a beautiful country pub, 'local and proud.