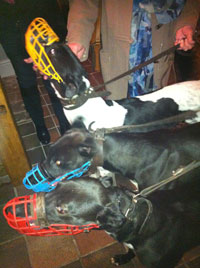 Opening night at the new Three Greyhounds Inn was celebrated with the arrival of the real three greyhounds…muzzles and all.
Our wonderful gardener and great raconteur from our Cholmondeley Arms pub, Johnny, popped in on opening night with his good lady wife and son. He brought along his three pet greyhounds to celebrate the re-opening of our historic country pub.
Customers and the team all came out to give the dogs a pat on the head.
We are delighted to be open and thank you to all who have visited us over the opening weekend and all the positive feedback we have received.