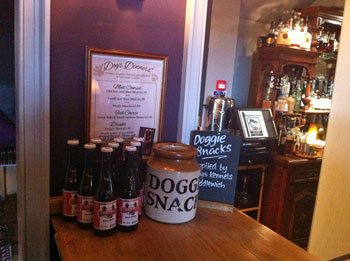 Last week we launched Dogs Dinners at The Three Greyhounds Inn, we now offer a doggie menu featuring a selection of dry food from Ocars pet food.The menu includes a Lamb and Rice meal, a Chicken and Rice meal and some tasty treats, all meals are gluten free and contain no artificial flavouring.All of these tasty meals and snacks can be washed down by some doggie beer… yes that's right doggie beer (non-alcoholic of course)! The first choice beverage for many dogs, is a meat stock based drink.
Dogs are welcome in the 'Brandy Snug' and also in our large garden. There is a lovely strole around Shakerely Mere nature reserve. Our walk leaflets can either picked up from within the pub of found on the website.
Don't forget there are doggie treats on the bar provided by our friends at WAGS Kennels, Middlewhich.
See doggie menu below.